The Hibiscus Difference
Hibiscus Court has a unique approach to Senior Living. Life at Hibiscus is truly what assisted living should be.
Each and every resident at Hibiscus Court is unique and each and every resident has a different experience at Hibiscus, as their experience is tailored to their likes, needs, preferences and personality.
A team of experienced caregivers is led by 24/7 onsite LPNs. Onsite LPNs gives Hibiscus Court residents greater continuity of care as the team at Hibiscus is equipped to allow residents to age in place in their private apartment.
Schedule a Tour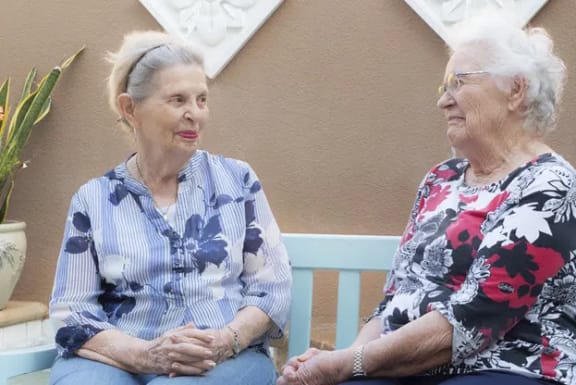 Personalized Services
It is our goal to offer a full spectrum of services that will identify and address every unique requirement while always promoting resident independence and dignity. The interdisciplinary and insightful information in the Resident Functional Evaluation allows Hibiscus Court to identify the needs of each resident and create a personal service plan. Your Hibiscus Court community professional will be glad to review the Resident Functional Evaluation with you and answer any questions you may have.
Services can be but are not limited to the following:
Assistance with medication administration
Assistance with bathing, dressing or grooming
Assistance with ambulation
Assistance with activities of daily living
Assistance with additional housekeeping services
Testimonials
Amazing staff that takes care of residents as family! I am so glad I had the privilege to meet you all! Highly recommend!!!!

- deborahmatt via GOOGLE
Such a wonderful and caring staff. They treat the residents like family (and family of residents like family). Never had any regrets about Mom being there, and she was always happy there. Hibiscus Court is a wonderful place when a family member needs assisted living care.

- Ron Childers via GOOGLE
The staff at Hibiscus Court are fun, caring and uplifting. I feel fortunate my sister found such an awesome place for our Mom??

- mary walizer via GOOGLE
What an amazing group of caring staff members. The residents are truly treated as beloved family members. Plenty of fun activities and good food. Highly recommended.

- Tom Taranto via GOOGLE
Incredibly clean and super friendly staff! Happy to have my family somewhere so wonderful. Thank you Hibiscus Court!

- Bedonna Flesher via GOOGLE
Heidi and dear staff... I want to thank you from the bottom of my heart for taking such super care of my precious dad... he told me over and over how kind helpful and sweet ALL the nurses and staff were to him.. You guys will always be special to our family. Love, Nancy Pegram Bowen... I miss you guys already

- Jessica Oneill Oneill via GOOGLE
My mom has been resident of Hibiscus Court for over a year. In that time I have watched her thrive and become less anxious and confused in her state of Dementia. Prior to coming to Hibiscus Court, she was losing ground and it would break my heart to leave her because of the look of confusion she would give me. But the loving and expert care that she has received in the last year has allowed her to maintain a stable mental state.

- Isabel Berly via GOOGLE
Awesome Staff. They have been excellent every step of the way. My mom loves it there and complains when we take her on vacation that she will be missing things at 'home'. They are excellent.

- via SUPERPAGES
Great community. Excellent Staff, Great Amenities, Top Notch. They have been excellent to my entire family. Don't make a Senior Living decision without stopping here first.

- wendy_panning via YELLOWPAGES