Memory Care Community
The Garden is a secured memory support neighborhood located within Hibiscus Court. The Garden offers a welcomed approach for those living with dementia, Alzheimer's and other memory impairments. The Garden not only offers the same assisted living services as offered in Hibiscus Court, but more!
The Garden is home to The Circle of Friends Memory Care Program. Our lifestyle in The Gardenhas been designed by dementia and memory care experts. Residents are supported to be as independent as possible, and they are given opportunities for success throughout the day as our team crafts the appropriate environment for them throughout the day.
Our environment changes as the needs of our residents change. Our highly trained associates recognize the unique needs of those living with dementia and strive every day to provide a supportive and enriching environment for our residents.
Contact the team at the community for more information and to see our Garden for yourself.
Lifestyle, Services, Programming and Activities
Hibiscus Court's Circle of Friends LIFEstyle is purposefully designed. Special activities and support services are offered to provide the maximum quality of life. Our program is built directly around those who live in our community, and is continually refocused to provide the best possible community for our residents each and every day. We recognize that everyone's journey with memory impairment is different and we aim to meet the changing needs of residents each day.
Our Associates are trained on how to best care for those living with dementia through formal and informal training. Our leadership is hands on in our Garden, always making sure that individual needs are met.
Personalized lifestyle based on interests and abilities, including activities and entertainment
Dementia friendly exercise classes
Aiming for a sense of fulfillment and accomplishment every day
A daily routine focused on individual needs, supported independence, grace and dignity.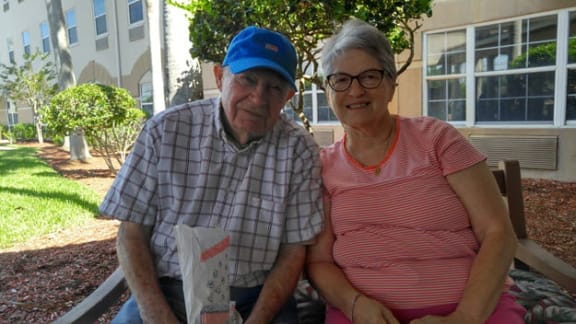 Caring Associates
The Garden provides an enriched quality of life for residents and peace of mind for families who entrust us to meet their loved ones needs.
Our associates deeply care about our residents and work to form trusted relationships from day one. We recognize that family is an important part of assisted living and we strive to include families as much as possible.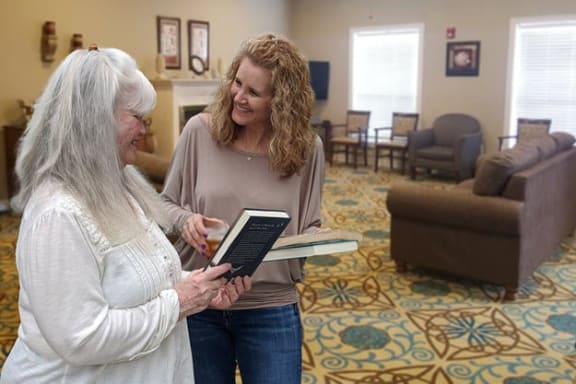 Enhanced Lifestyle
With a comfortable, home-like environment, The Garden was carefully designed to preserve our residents' sense of individuality. Lifestyle is enhanced with a full and appropriate activities program, familiar cues that assist residents with orientation and help decrease frustration and anxiety including:
Suites furnished by the families so the resident's personal furnishings and special treasures surround them.
A living room ideal for socializing, watching television, visiting with friends or participating in small group programs.
Activities where residents gather for exercise, games, spiritual classes, memory stimulation activities, and so much more.
A dining room offering the warmth and comfort of home with served meals and assistance for those who may need additional support.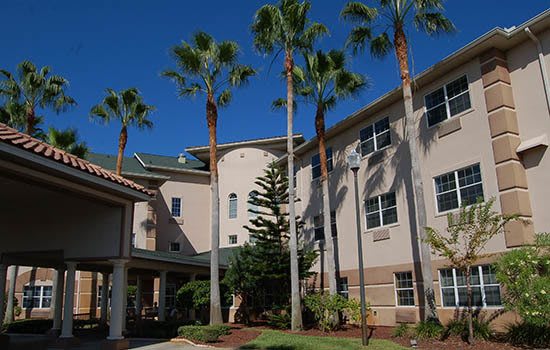 Testimonials
Amazing staff that takes care of residents as family! I am so glad I had the privilege to meet you all! Highly recommend!!!!

- deborahmatt via GOOGLE
Such a wonderful and caring staff. They treat the residents like family (and family of residents like family). Never had any regrets about Mom being there, and she was always happy there. Hibiscus Court is a wonderful place when a family member needs assisted living care.

- Ron Childers via GOOGLE
The staff at Hibiscus Court are fun, caring and uplifting. I feel fortunate my sister found such an awesome place for our Mom??

- mary walizer via GOOGLE
What an amazing group of caring staff members. The residents are truly treated as beloved family members. Plenty of fun activities and good food. Highly recommended.

- Tom Taranto via GOOGLE
Incredibly clean and super friendly staff! Happy to have my family somewhere so wonderful. Thank you Hibiscus Court!

- Bedonna Flesher via GOOGLE
Heidi and dear staff... I want to thank you from the bottom of my heart for taking such super care of my precious dad... he told me over and over how kind helpful and sweet ALL the nurses and staff were to him.. You guys will always be special to our family. Love, Nancy Pegram Bowen... I miss you guys already

- Jessica Oneill Oneill via GOOGLE
My mom has been resident of Hibiscus Court for over a year. In that time I have watched her thrive and become less anxious and confused in her state of Dementia. Prior to coming to Hibiscus Court, she was losing ground and it would break my heart to leave her because of the look of confusion she would give me. But the loving and expert care that she has received in the last year has allowed her to maintain a stable mental state.

- Isabel Berly via GOOGLE
Awesome Staff. They have been excellent every step of the way. My mom loves it there and complains when we take her on vacation that she will be missing things at 'home'. They are excellent.

- via SUPERPAGES
Great community. Excellent Staff, Great Amenities, Top Notch. They have been excellent to my entire family. Don't make a Senior Living decision without stopping here first.

- wendy_panning via YELLOWPAGES