Hibiscus Court Senior Living Options
Hibiscus Court offers senior assisted living and memory care services in Melbourne, FL. As the only assisted living with an integrated secure memory care community in Melbourne, Hibiscus is uniquely positioned to serve all seniors. Hibiscus is home to a wide range of people including independent residents who appreciate the security a community brings, residents who need physical assistance, residents who may need a little support and those living with dementias.

The smallest large community in Brevard, Hibiscus' Assisted Living is home to 58 residents, and the Garden Memory Care community is typically home to 20. These numbers allow for Hibiscus Court to provide all the amenities and benefits of a large assisted living with the attention to detail of a smaller community.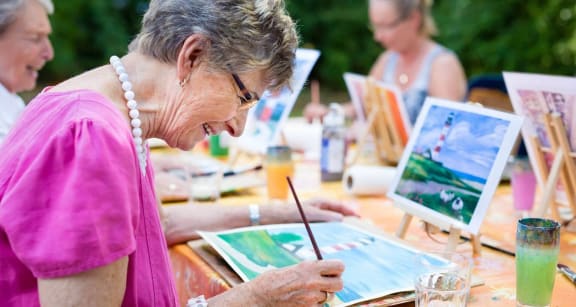 Hibiscus Court
From the spectacular and comfortable lobby to the club-style dining room and many activity areas, Hibiscus Court has it all. But don't let the elegant décor fool you. The residents will be the first to say that the community represents a true East Coast Florida retirement assisted living lifestyle with comfort throughout.
Find out more about our senior living care levels below:
Testimonials
Amazing staff that takes care of residents as family! I am so glad I had the privilege to meet you all! Highly recommend!!!!

- deborahmatt via GOOGLE
Such a wonderful and caring staff. They treat the residents like family (and family of residents like family). Never had any regrets about Mom being there, and she was always happy there. Hibiscus Court is a wonderful place when a family member needs assisted living care.

- Ron Childers via GOOGLE
The staff at Hibiscus Court are fun, caring and uplifting. I feel fortunate my sister found such an awesome place for our Mom??

- mary walizer via GOOGLE
What an amazing group of caring staff members. The residents are truly treated as beloved family members. Plenty of fun activities and good food. Highly recommended.

- Tom Taranto via GOOGLE
Incredibly clean and super friendly staff! Happy to have my family somewhere so wonderful. Thank you Hibiscus Court!

- Bedonna Flesher via GOOGLE
Heidi and dear staff... I want to thank you from the bottom of my heart for taking such super care of my precious dad... he told me over and over how kind helpful and sweet ALL the nurses and staff were to him.. You guys will always be special to our family. Love, Nancy Pegram Bowen... I miss you guys already

- Jessica Oneill Oneill via GOOGLE
My mom has been resident of Hibiscus Court for over a year. In that time I have watched her thrive and become less anxious and confused in her state of Dementia. Prior to coming to Hibiscus Court, she was losing ground and it would break my heart to leave her because of the look of confusion she would give me. But the loving and expert care that she has received in the last year has allowed her to maintain a stable mental state.

- Isabel Berly via GOOGLE
Awesome Staff. They have been excellent every step of the way. My mom loves it there and complains when we take her on vacation that she will be missing things at 'home'. They are excellent.

- via SUPERPAGES
Great community. Excellent Staff, Great Amenities, Top Notch. They have been excellent to my entire family. Don't make a Senior Living decision without stopping here first.

- wendy_panning via YELLOWPAGES